On Tuesday, seven Israeli startups were chosen as 2021's most promising company in Fintech. With more than 750 start-ups today in the Fintech sector alone, Israel has been a global pioneer in the field for more than a decade. A number of different categories were on the top list, including payments and trade, lending and financing, cybersecurity, insurtech and the most promising seed company. The list was published for the second year in a row.
The winning companies – Identiq, Balance, Sharegain, Obligo, Planck, Unit and Panorays – were selected by 30 financial entities and venture capital funds operating in Israel, including Viola, Pitango, Team8, Entree Capital, Qumra Capital and more. The VCs were only allowed to name one of their portfolio companies per category.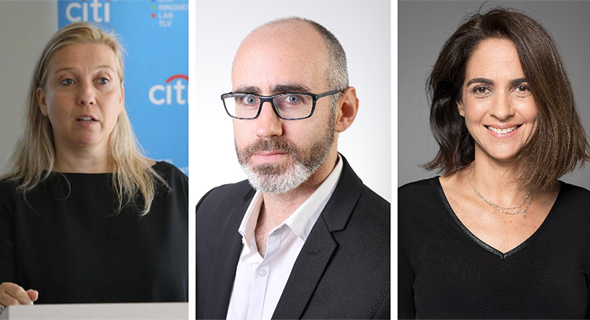 Ornit Shinar, Shahar Friedman and Yael Waisbourd-Sucary. Photo: Visa, discount
Below are the winners in each category:
ranked first in the Promising Early Stage Company category:
Identiq was founded in 2018 and is the first anonymous global identity verification network. This network enables companies on board new customers with confidence, while reducing false positive results, increasing the approval rate and creating a better user experience. This technique can also be used to fund source validation, rapid recall, password recovery flows and other high risk activity validation.
The balance is first ranked in the category Payments and trading:
Getting paid by customers is a complex task. With the growing number of payment options and financial products, merchants are struggling to connect different providers and solutions to create a smooth payment experience. Balance addresses this challenge by providing a modernized payment platform for merchants and offers a variety of payment methods that want to make B2B payments as easy as card payments.
ranked first in the category Trade and investment:
The high volatility in the capital markets over the past year has increased investors' demand for borrowing securities and benefiting from various investment strategies, but until today the opportunity to lend shares was reserved for large units.
Sharegain was founded in 2015 and democratizes securities lending by providing a Securities-Lending-as-a-Service solution – an automated platform that enables private banks, asset managers and online brokers to lend their shares, bonds and ETFs and generate additional revenue. for them and their customers.
ranked first in the category of lending and financing:
With the financial pressure of the Covid-19 crisis, there is a growing demand for deposit-free housing rentals, which helps families avoid the burden of paying a deposit when moving in. Founded in 2018 by brothers Roey and Omri Dor, Obligo addresses this challenge by providing a credit-based deposit option.
Instead of paying a deposit or buying a deposit insurance, tenants submit a pre-authorization payment method, similar to a hotel check-in process. This benefits both tenants and landlords who have lower operating costs and can market their properties as deposit-free communities.
ranked first in the Insurtech category:
Planck was founded in 2016 and is a data platform for commercial insurance built to enable insurers to immediately and correctly take out all companies. Planck is an example of how technology disrupts traditional business processes. With just a company name and address, Planck's artificial intelligence data platform creates all relevant real-time insights with over 90% accuracy and coverage.
The device was first ranked in the category infrastructure and technology:
Embedded Fintech is a rising trend as companies want to add financial services to their core product. However, integrating financial services is not an easy or cheap task, which creates a high barrier to making these services regulatory and financially viable.
The unit addresses this by introducing a platform that allows third parties to integrate banking services such as debit cards, checking accounts and money transfers into their own companies through an API, enabling companies of all sizes to offer financial services.
ranked first in the category Cyber ​​Security:
The increase in data protection rules and the growing risk of attacks in the supply chain are changing the way companies approach data protection and cyber security from third parties. Panorays addresses this challenge by providing an automated third-party security management platform that shortens their security evaluation process and provides a continuous view of the supplier's security and regularity. Most importantly, Panorays restores trust between companies by making security an efficient and integral part of companies' day-to-day business operations.
"We are proud to be active contributors to the establishment and development of the Israeli Fintech ecosystem," said Ornit Shinar, Citi Israel's Head of External Innovation and Head of Venture Investing. "Our commitment over the past decade continues to grow. From the activities in our innovation laboratory through our investment investments and commercialization of Israeli innovation. We are happy to see all the new names that have been added to the list this year, congratulations to the winners and we all look forward to seeing you grow from strength to strength. "
"Visa gladly participated in the promising Fintech corporate event 2021," added Shahar Friedman, director of Visa Innovation Studio. "We are constantly striving to connect future Fintechs to Visa's global network of customers and merchants looking for solutions to their challenges and ways to differentiate themselves from the competition. What makes Visa's strategy for innovation unique is our focus on establishing collaborations with technical partners. Thus creates a platform for delivering digitized solutions for urgent needs where traders and banks must meet. "
Yael Waisbourd-Sucary, Head of Innovation and Fintech at Discount Bank, added: "2020 was a crazy year for everyone, on a personal and professional level. I'm happy to be here and I think when we look back at what this year did against Fintech, those are just good things. We see an impact on the industry and we saw it in our fintech activities at Discount bank. "
Before the winners were announced, Shinar was joined by Blumberg Capital's David Blumberg, Aleph's Michael Eisenberg and Stampli's CEO Eyal Feldman for a discussion on how Covid-19 affected the industry.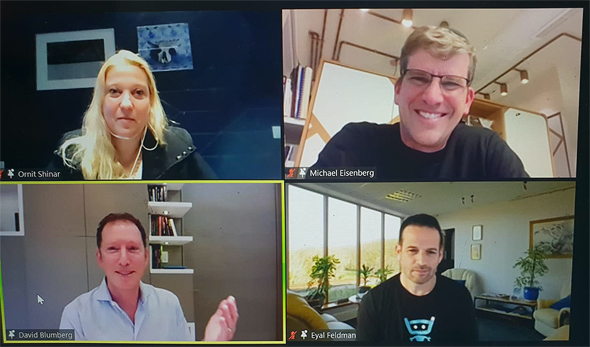 The four participated in a conversation before the results. photo: PR
"We have come up with a new name for Covid. Covid does not stand for Coronavirus 19, it stands for "Catalyst Of Virtualization and Centered Decentralization", says Blumberg. "In every cloud there is a silver lining. Be strong and have courage – do not be afraid. Most entrepreneurs are resilient souls. They have been refused 100 times before being granted a yes. This is the type of character we are looking for as investors, this is the type of character you want to support. "
Eisenberg added that "one of the things Covid taught us is that none of us are safe until we are all safe. I believe this is not only true in pandemic terms but also in financial terms. At the same time, we must figure out how we can use new financial tools and new institutions to be able to strengthen a wider range of people in society … My belief is that by working together, we bring people together. Through financial innovation, we can work over a broader sense of populations, geographies and nationalities to be able to do this and bring people together. "
Stampli's CEO Eyal Feldman added: "We are fortunate to be part of a domain that benefits from the situation, but we had to change tactically. We postponed our new sales office because it felt strange to hire 15 sales people we have never met in a place we have never visited … the pandemic proved to be useful because life sucks outside of work. And so people worked and collaborated and it worked really well. "